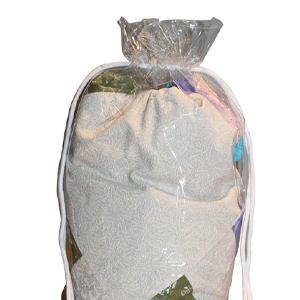 November 18th, 2015
Plastic drawstring bags are a highly versatile packaging option. You can market your products in the bags. You promote your brand in a favourable manner when you turn to this type of bag. Your customers even can reuse the bags for their own purposes. Read on to discover why Fusion Packaging believes these bags are your versatile option for packaging.
Affordable
Drawstring bags such as these are extremely affordable since you can purchase them in bulk quantities of 400 per box. As a product package, it is imperative for these bags to be an inexpensive option. Fusion understands that your company realises higher profits when it utilises the right packaging options.
Durable and Spacious
Our drawstring bags are clear and made from double polished PVC, which resists punctures and is waterproof. The seams a sealed with heat to strengthen them. We add two 3-mm drawstrings that you pull from each side in unison to close the bags. With a diameter of 15 cm and a height of 30 cm, you have a spacious interior area to pack your products in safely.
Printable for Branding Purposes

The PVC is printable in order for you to add your brand, company logo or other information to the bags. Promoting your products in this manner will increase your sales and imprint your brand in the minds of your customers. You need people to think about the quality of your products at the mere mention of your name.
Attractive for Marketing

Since you can create the plastic drawstring bags to state your unique message with graphics, they make an attractive marketing tool. The packaging of your products must lure customers to them in order for you to make a sale.
Reusable 
Drawstring bags of PVC are a reusable packaging option. Customers, once they empty them at home to use the product that the bags contain, they can carry or store cosmetics, clothes or other items in the bags.
Lightweight Packaging
PVC drawstring bags are a lightweight packaging option and this will reduce your shipping costs and those of your customers. In addition, since the bags are not thick in nature, you can store additional products on your shelves compared to bulkier packaging options.
Sell for Gift Bags
Utilize these bags as a standalone product. Decorate them for the holidays, birthdays or other occasions people celebrate throughout the year and sell them as gift bags. Today, people turn to reusable gift bags such as these PVC bags to present their gifts to their loved ones.
If you discover that you require custom options for your plastic drawstring bags, please consult with Fusion Packaging to learn how we accommodate your needs. We strive to meet the needs of all our clients in a quality manner.
Find out how Fusion Packaging can streamline your PVC packaging supply and cut your costs.
Unit 1/2 Kinwal Court, Moorabbin 3189 VIC Australia
Phone: +61 3 9553 2777
Fax: +61 3 9553 2577
Optimized by NetwizardSEO.com.au