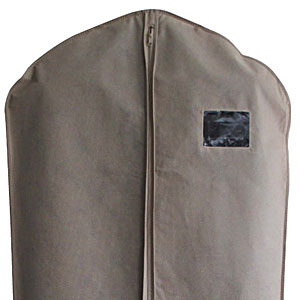 November 6th, 2015
Clothes or garments come at a high price today, so it is important to protect them in the proper manner at all times. An easy way to accomplish this is by covering them with garment covers or bags of polypropylene, poly vinyl chloride or PVC, or polyethylene vinyl acetate or PEVA. Fusion Packaging provides a number of different models of these bags that provide protection to your garments.

Uses for Garment Bags
1. People can protect out-of-season clothes in the closet by inserting them into garment bags before hanging them on the rack in the closet. Individuals prevent their clothes from attracting dust, moths or other unwanted elements over the months that they will not be wearing the clothes.
2. Travelers will keep suits, dresses, blouses and shirts wrinkle free while they travel with garment bags. They can hang the clothes in their car or have the flight attendance hang the garments in a special compartment on the plane. In addition, they can utilize these garment bags while they travel by other modes of transportation to safeguard their clothes.
3. People protect clothes during shipping or moving them. They can place their dresses, shirts, blouses and suits in the bags. Then, they fold them in half as they place them in the corrugated containers. Once the clothes reach their destination, the clothes are easy to hang right out of the box. If the garments require steaming, this can be performed at a later date.
4. Individuals will prevent moisture from harming their clothes on rainy days, especially as they leave the dry cleaners to return home. Certain fabrics are quite sensitive to water and may develop unsightly watermarks.
Benefits of Using Garment Bags
• Durable enough for traveling, shipping and moving
• Water resistant once you close the zipper
• Highly affordable clothes protector
• Lightweight in nature, which will not increase the cost of shipping when they are used for this purpose
• The materials in the garment covers will not harm fabrics
Sizes of Garment Bags
We offer a wide assortment of sizes in garment bags to fit your specific needs. Learn about these sizes below:
• PEVA dark beige, dress covers are 61 cm x 137 cm
• PEVA navy blue, suit covers are 61 cm x 101.5 cm
• Polypropylene non-woven, dark beige, dress covers measure 61 cm x 137 cm
• Polypropylene non-woven, navy blue, suit covers measure 61 cm x 101.5 cm
• PVC navy blue, suit covers come in 61 cm x 137 cm and 61 cm x 101.5 cm
You can buy these bags in lots of 100, and they are printable in case you wish to expand your brand through the bags. Contact Fusion Packaging for further details on our garment covers or our other available items.
Find out how Fusion Packaging can streamline your PVC packaging supply and cut your costs.
Unit 1/2 Kinwal Court, Moorabbin 3189 VIC Australia
Phone: +61 3 9553 2777
Fax: +61 3 9553 2577
Optimized by NetwizardSEO.com.au